Employment Contract Types & Terms and Conditions Permitted by Law a Comparative Study for Turkish and Lithuanian Laws
By Lina Simonyte
ADMD Law Office, Istanbul TURKEY
An employment contract is as a category of agreement used in labor law to establish basic rights and responsibilities between employees and employers. This document is legally binding and generally will be enforced as long as the terms are not egregious and/or where an employee is not prohibited to contract-away his/her rights under worker protection legislation. The aim of this brief information note is to provide an understanding of employment contracts executed in Turkey and in Lithuania and to highlight distinctions between contract types and terms and the conditions applicable.
1. Introduction
The history of employment contracts date back to ancient Rome where they were constructed unequally and where the employer was held in a higher position with regards to the employee. Fortunately today, the employment contracts have evolved trying to protect the rights of employees more.
In Turkish law, definition of employment contracts can be found in the Turkish Labor Code (TLC), Law No. 4857, dated June 10, 2008 and in the Turkish Code of Obligations (TCO), Law No. 818, dated April 22, 1926. As defined in such sources an employment contract is an agreement where an employee undertakes to serve to an employer who is engaged to pay him/her a wage for a certain or uncertain period of time (TLC. Art. 8; TCO. Art. 313/1).
Similar definition of employment contracts can be located at the Labor Code of the Republic of Lithuania (LLC), Law No. IX-926, dated April 6, 2002. Article 93 of LLC states that an employment contract shall be an agreement between an employee and an employer whereby the employee undertakes to perform a work of a certain profession, specialty, qualification or to perform specific duties in accordance with the work regulations established at the workplace, whereas the employer undertakes to provide the employee with the work specified in the contract, to pay him/her the agreed wage and to ensure working conditions as set in labor laws, other regulatory acts, the collective agreements or by an agreement among the parties.
As understood from these definitions of both Turkish and Lithuanian laws, there are three constitutive elements required for an employment contract: work, wage and dependence.
2. Types of Employment Contracts in Turkey and in Lithuania
Properly drafted employment contracts provide useful instruments by which parties are equally and fairly protected. In general terms there are two main types of employment contracts that are for indefinite term and for temporary (fixed) term. In Turkish Labor Code, there are specifically tailored four different types of classifications:
a) Employment contracts for "temporary" and "permanent" work (Article 10 of TLC). Employment which, owing to its nature, lasts only up to 30 days is transitory (temporary); and employment which requires a longer period is continual (permanent).
b) Employment contracts for a "definite period" or an "indefinite period" (Article 11 of TLC). An employment contract is deemed to have been made for an indefinite period which the employment relationship is not based on a fixed term. An employment contract for a definite period is one that is concluded between the employer and the employee in written form, which has a specified term or which is based on the emergence of objective conditions like the completion of a certain work or the materialization of a certain event. An employment contract for a definite period must not be concluded more than once, except when there is an essential reason which may necessitate repeated (chain) contracts. Otherwise, (in case of repetition) such employment contracts are deemed to have been made for an indefinite period from the very beginning.
c) Employment contracts for "part-time" work (Article 13 of TLC). The employment contract shall be considered as a part-time contract where the normal weekly working time of the employee has been fixed considerably shorter in relation to a comparable employee working full-time.
d) Employment contracts for "work-upon-call" (Article 14 of TLC). Employment relationship which foresees the performance of work by the employee upon the emergence of the need for his/her services, as agreed to in the written employment contract, qualifies as a part-time employment contract based on work-on-call.
Labor Code of Republic of Lithuania (LLC) provides even more specific classifications under six titled only some similar to TLC's as defined below:
a) Non-term (Article 108/2 of LLC) as a rule is an employment contract shall be concluded for an indefinite period of time.
b) Fixed-term, temporary, seasonal (Article 109/1 of LLC). A fixed-term employment contract may be concluded for a certain period of time or for the period of the performance of certain work, but not exceeding five years. Article 113/1 of LLC defines that a temporary employment contract shall be an employment contract concluded for a period not exceeding two months. Article 112/1 of LLC defines a seasonal employment contract shall be concluded for the performance of seasonal work. Seasonal work shall be such work, which due to natural and climatic conditions are performed not all year round, but in certain periods (seasons) not exceeding eight months (in a period of twelve successive months), and is entered on the list of types of seasonal work.
c) Additional work, secondary job (Article 114 of LLC). Unless it is prohibited by laws, an employee may make an arrangement to perform certain additional duties or certain additional (not agreed in the contract) work at the same workplace. Article 114/2 of LLC describes that an employee may perform secondary duties or do a second job at another workplace unless it is prohibited by laws or other regulatory acts. The characteristics of employment contracts on secondary duties (job) are established by the Government regulations and/or collective agreements, if any.
d) With home-workers (Article 115 of LLC). An employment contract may be established where an employee will perform the job functions agreed therein at home. The characteristics of employment contracts for home-workers are established by the Government regulations and collective agreements, if any.
e) On the supply of services (Article 116 of LLC). A contract on the supply of services shall be an employment contract whereby an employee undertakes to supply personal household services to his employer. The characteristics of this type of employment contracts are established by the Government.
f) Other (Article 117 of LLC). There are various other types of employment contracts such as employment contracts with employees of farms and other agricultural entities, employees of special purpose enterprises whereof disruption of activities may have serious consequences to people of the State and its nature, as well as contracts concluded in other cases specified by LLC or other laws. Labor codes of both countries provide an opportunity to parties to determine the employment conditions in a manner to satisfy their actual needs. Both of these labor codes also foresee an opportunity upon concluding an employment contract to agree on a trial period. In Lithuania, a trial period shall not be longer than three months but in Turkey it shall not exceed two months but it may be extended up to four months if there is a collective agreement.
3. The Terms and Conditions of Employment Contracts
If one employee agrees to work for someone and that person agrees to pay a salary in return there is an employment contract deemed to exist even if not in writing. In case the essential terms and conditions are not determined fully by the parties, the labor codes fill in the blanks with minimum requirements in case of a dispute.
Under LLC of Lithuania, an employment contract shall be deemed to be concluded if the parties have agreed on the conditions of an employment contract. Article 95 of LLC defines the application of such conditions of an employment contract. These conditions designated by the Article may be divided into sections as essential, compulsory and other conditions (see table below):
Table for Classifying Conditions of Employment Contracts Under LLC of Lithuania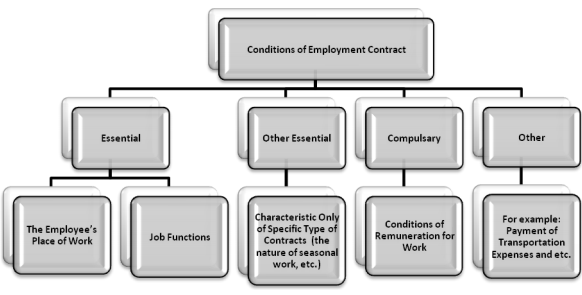 Employment contract will be invalid if there is no agreement between parties on the essential conditions. Therefore the contract will still be deemed valid in case the parties did not agree on the compulsory or other conditions and such issues will be resolved by determination of LLC.
There are different types of employment contracts established in LLC of Lithuania as explained above subject to different conditions. Employment contracts must be in writing and the model of agreement should be determined by law. In case where the employment has commenced without a written agreement, the employer shall register an employment contract later with corrections in company books and employee submissions.
Table for Classifying Conditions of Employment Contracts Under TLC of Turkey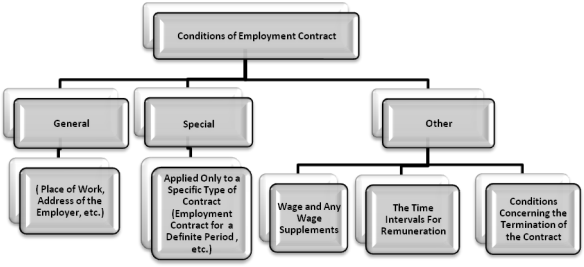 Under Turkish law, employment contract is not subject to any kind of form requirement unless stated otherwise by law. The TLC of Turkey states that, there is no form requirement for concluding an employment contract. This means that an employment contract can even be concluded verbally without signing any contract.
However, if an agreement is signed for a definite period (one year or more), it must be in written form for the purposes of evidence and it will be deemed as an indefinite term agreement otherwise.
On the understanding that there is no written contract concluded between the parties, i.e., the employer and the employee, within two months from the start of the employment, the employer is obliged to provide the employee with a written and unilaterally signed document showing the conditions mentioned above (see table for classifying conditions of employment contract under TLC of Turkey).
This liability noted above is not applicable to fixed term contracts whose duration does not exceed one month. If the employment contract has expired before the lapse of two months, this information must be communicated to the employee in written form on the expiration date at the latest (Article 8 of TLC). An employer, who decides to change working conditions noted in the employment contract, on the rules of work which are annexed to the contract, and on similar sources or workplace practices, this can only be achieved with a written notice to be served to employee and his/her acceptance if such changes are essential. In Lithuania, working time may not exceed 40 hours per week and the duration of daily working time must not exceed 8 working hours pursuant to Articles 144/1 – 144/1 of LLC. Maximum working time, including overtime, must not exceed 48 hours per 7 working days. For employees, working in more than one workplace or having an additional job contract in the same workplace, the daily working time (including breaks to rest and to eat) may not be longer than 12 hours.
However in Turkey, the maximum normal working time is 45 hours per week. Working hours in the workplace shall be divided equally by the days of the week. Provided that the parties have so agreed, working time may be divided by the days of the week worked in different forms on condition that the daily working time shall not exceed 11 hours (Article 63) and one full day break shall be provided in the weekend.
In Turkey an employee must be at least of 15 years of age to be eligible for full-time employment. Children of ages 13 and 14 can only work in jobs that are not physically demanding or that are part-time, if such children are also enrolled in school or other vocational training.
This notwithstanding, in Lithuania, a person could acquire full legal capacity in labor relations and ability to acquire labor rights and undertake labor related duties when he/she reaches the age of 16 years. The recruitment of persons under the age of 16 is allowed with written consent of their school and of one of the child's parents or his/her statutory representative, as well as with permission of his/her attending pediatrician. Persons under the age of 16 must perform only easy works that are not dangerous and do not affect their physical and psychological development negatively.In both Turkey and Lithuania labor codes also prohibit any type of discrimination based on race, gender, political opinion, religion or similar social criteria.
4. Conclusion
Consequently, employment contract types in Lithuania and Turkey and the terms and conditions are considerably similar to each other. They both aim to protect the employee's rights and try to establish a safe working environment later outweighing the rights of employers.