Orhan Yavuz Mavioglu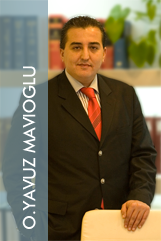 Orhan Yavuz Mavioglu is the managing partner of ADMD since 2005. He represents financial institutions and corporate clients in a wide variety of matters, including mergers & acquisitions, corporate governance and transactions, tax planning and tax controversy.
In addition to his extensive experience in foreign investments, Mr. Mavioglu has been cited as one of the country's leading practitioners in tax, most recently by World Finance, a leading financial magazine published by World News Media located at London awarded as the "Best Tax Consultant for Turkey" in 2011.
Mr. Mavioglu worked previously for Istanbul offices of Altheimer & Gray, Arthur Andersen and Ernst & Young. He also tutored Introduction to Law and Administrative Law courses in Military College for Non-Commissioned Officers in Balıkesir.
Mr. Mavioglu holds his LL.B. degree from Marmara University in Istanbul. He also studied in LL.M. programs of U.S. law at Columbia University, New York where he was a 'Stone Scholar', EU Law at Marmara University European Community Institute, and in financial law at Istanbul University. Mr. Mavioglu is a member of Istanbul Bar Association since 2000, he also passed New York Bar Exam at first attempt in 2004.
Mr. Mavioglu also is a trademark and patent representative at Turkish Patent Institute and European Patent Organization since 2001. Mr. Mavioglu also serves often as a judge at national rounds of ILSA Moot Court competitions.
Mr. Mavioglu may be reached by telephone at +90 (212) 269.56.61 or
by email at yavuz.mavioglu@admdlaw.com.